What Is Cholesterol?
Cholesterol is a waxy substance found in your blood that comprises: Good Cholesterol, also known as High-Density Lipoprotein and Bad Cholesterol, known as Low-Density Lipoprotein. To maintain your cholesterol level in a particular range, you need to eat a balanced diet as prescribed by your dietitian. A good diet and exercise are required to get your cholesterol level under control. And, keeping your cholesterol under control is necessary as it can lead to heart strokes and other diseases.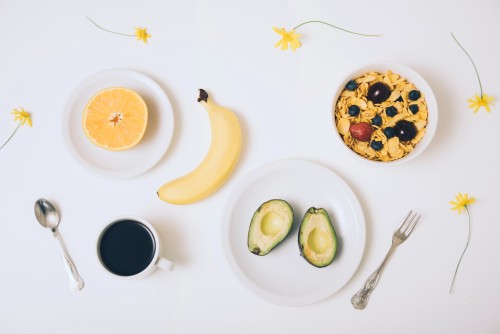 Healthy Breakfast Ideas For High-Cholesterol
As we all are aware about the importance of breakfast. So, starting your day with a healthy breakfast would make your day energetic and healthier. Below are a few recipes that you should include in your breakfast to keep your cholesterol under control.
Breakfast Smoothie
Ingredients Oats- 2 cups Oranges (peeled and deseeded)-2 Mixed berries-1 cup Almond milk- 5 cups Flax seeds - 25 gms Walnut - 1/4 cups Dried stevia leaves - 1/2 tbsp Mint leaves - 15 gms Method: 1. Soak the oats in milk for 10 minutes 2. Add orange, walnuts, flax seeds, mint leaves and stevia. Leave some mint leaves for garnish 3. Blend all in a food processor till smooth. Do not strain 4. Serve chilled
Indian Style Chickpea Toasties
Ingredients: Chickpeas (soaked and boiled)-150 grams Cherry tomatoes (chopped)-1 cup Green Onions (sliced thinly)- 2 Chopped coriander- 1 tbsp Grounded cumin-½ tsp Multigrain/Rye Bread-4 slices Olive oil-1tsp Ricotta cheese-¼ cup (1oz) Baby spinach leaves-1oz Method: 1. Place chickpeas in a medium bowl; roughly mash with a fork. Add tomatoes, green onion, coriander, and cumin; stir to combine 2. Lay a sheet of baking paper. Place bread slices. Lightly drizzle slices with olive oil. Turn 2 slices so the oiled side faces down; spread with ricotta cheese and top with chickpea mixture and spinach 3. Preheat a sandwich press. Toast sandwiches in a hot sandwich press for 3 minutes or until golden and crisp.
Roasted Pumpkin and Pistachio Salad
Ingredients: Pumpkin-500g Baby spinach leaves-100g Pistachio-75g Avocado-1 Red onion-1 small Fresh basil leaves-0.25 cups Freshly ground black pepper-1/2tsp Method: 1. Preheat oven to 200°C 2. Slice the pumpkin into thin wedges and place on a baking tray lined with non stick baking paper 3. Drizzle with oil and sprinkle with pepper 4. Cook for 20-25 minutes or until tender and golden 5. Remove from the oven and set aside to cool slightly 6. Arrange the pumpkin on a serving plate with baby spinach, pistachio, wedges of avocado, and thinly sliced onion and basil
Red Lentil and Tomato Soup
Ingredients: Olive oil-1 tbsp Garlic cloves-2 Onion-1 Coriander powder-2 tsp Cumin powder-2 tsp Red lentil-500g Diced tomatoes-2 Vegetable stock- 1 cup Zucchinis- 1 Pink salt- 1tsp Method: 1. Heat oil in a saucepan. Sauté chopped onion, garlic, and spices 2. Add washed and dried red lentils, vegetable stock, and tomatoes and boil it.Reduce heat and simmer for 15 minutes 3. Add zucchini and salt and simmer for 5 minutes 4. Blend it and strain it. Boil the soup again 5. Serve hot
Quinoa Hazelnut Porridge
Ingredients: Quinoa-1 cup Water-3 cups Cinnamon- 2 sticks Oats milk-1 and 1/2 cups Apple-1 medium Sultanas- 1tbsp Hazelnuts/Almonds/Walnuts-1/2cup Method: 1. Place quinoa in a saucepan with water and cinnamon. Boil it and and simmer for 15 minutes 2. Add milk, chopped apples, and sultanas, cook for another 5 minutes. Stir it and add chopped hazelnuts 3. Serve hot immediately
Amarnath Tabbouleh
Ingredients: Amarnath-1 cup Boiled chickpeas-½ cup Cucumber-1 medium Onion-1 medium Tomatoes-2 Mint leaves-6-7 Coriander leaves and Parsley Lemon rind-1tsp Lemon juice- 2 tsp Olive oil-1tbsp Pine nuts-2tsp Salt-as per taste Method: 1. Heat amarnath in a skillet over low heat, stirring constantly, until the grains begin to "pop" (1-2 minutes) 2. Transfer to a pot and add water 3. Cover & bring it to boil & simmer for 15-20 minutes until most of the water is absorbed. Remove from heat and let it cool down 4. Dice all the veggies. Wash, drain, and chop parsley and coriander leaves 5. Combine all the ingredients in a large bowl and add salt, lemon rind, lemon juice, olive oil, pine nuts, and boiled chickpeas 6. Toss gently to combine all the ingredients together and serve chilled
Jowar Tacos with Chicken Filling
Ingredients For the Tacos Jowar flour-3/4 cup Wheat flour-¼ cup Baking powder-1 tsp Salt-1/4 tsp Cold unsalted butter/vegetable oil/rice bran oil-1tbsp For the Spicy Chicken Filling Chicken breast (cubed)-1 Onion- 1 medium Ginger paste- 1 tsp Garlic paste-1tsp Tomatoes-3 small chopped Paprika-1/2tsp Salt- as per taste Oregano and mixed herbs-1 tsp Olive oil-1 tbsp For Assembling- Crisp greens of your choice, sliced (lettuce, peppers, onions, corns) Cream cheese or hung yogurt Method: For the Tacos- 1. Sift together jowar flour, wheat flour, salt, and baking powder in a large mixing bowl. Add the butter cubes/coconut oil/rice bran oil and start rubbing the mixture using your fingers until it resembles bread crumbs 2. Pour in some warm water, a little at a time, and continue kneading until it forms a soft dough. Wrap it with a cling-film and keep in the refrigerator for 30 minutes 3. Take the dough and knead it a little. Divide it into small balls, about 7-8, and using a rolling pin, shape them into circular discs. You may require some flour for dusting while rolling the balls 4. Heat a tawa and roast the tacos on both sides on medium flame until done. Then transfer to a pre-heated oven set at 150 degree C and bake for 5 minutes 5. Remove from the oven. Place the rolling pin at the centre of each taco and slight bend the edges For the Chicken Filling 1. In the meantime, make the filling. Heat oil in a large pan. Add the onion, garlic and ginger pastes and saute for 2-3 minutes on medium flame 2. Add the tomatoes and saute for 4-5 minutes until the mixture is nice and pulpy 3. Add paprika, jaggery and salt, and mix well. Tip in the chicken cubes, coat well in the mixture. Cover the pan with a lid and allow it to cook for 7-8 minutes until done 4. Mix in the oregano and check seasoning For Assembling: Load the tacos with the spicy chicken filling, fresh greens, cream cheese or hung yoghurt and serve immediately.